Holy Family History
2016
Summer 2016 saw lots of repair and refurbishment works completed. Some of these projects were of the necessary, rather than exciting variety but no less important. We need to ensured that the boilers worked efficiently, that window frames were not rotting and that the floors were smooth, safe and do not present trip hazards. All important stuff.
In late September, we met with the council and with our contractor, Willmott Dixon, who were responsible for the major works over the year. These included the building of a sports hall on the Wiseman site and an 8 classroom block with an integrated learning resource centre on the Walthamstow site. This was clearly a very exciting time and we are very much looking forward to it.
Students were also really enjoy the new food technology facilities on the Wiseman site were so pleased with them. While the quality of staff is the most important thing in a school, it does make a difference to have excellent quality and inspiring facilities too.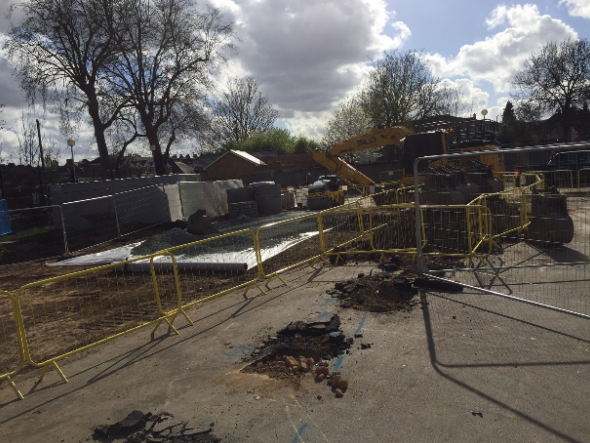 2017
Ancient ruins uncovered in Village
It turns out the Village has been up and coming for longer than was previously thought after archeologists uncovered prehistoric and Roman remains in the grounds of a local school. The discovery – a first of its kind in the area – revealed the remains of a substantial Roman building or buildings that were probably part of a wealthy Roman farmstead. "No prehistoric or Roman remains of any substance had previously been found in Walthamstow and so to get such a substantial building was very surprising," according to archeologist and project manager, Helen Hawkins, who has been leading the excavation. Hawkins says the discovery was also unexpected as the site is not near any known Roman roads, the closest being at Leyton. The possibility that the grounds of the Holy Family Catholic School – which abuts Vinegar Alley – might contain ancient secrets came to light in 2009 when a planning application for new buildings was submitted. Because the site was within an archeological priority area, trial trenching was carried out, which exposed tantalising clues.
"The trenching uncovered ditches and pits dating to prehistoric times, early Roman and late Roman periods, as well as a piece of Purbeck marble and some flue tiles, which suggested that a high status Roman building with underfloor heating was located on or near the site," says Hawkins. But when the building project was cancelled, further investigations were put on hold. It wasn't until last year when the school revived the building project that a ground penetrating radar survey was carried out, which identified extensive remains on the site. That's when the company Hawkins works for was brought in to continue the search. They didn't have to dig very deep before making their startling find. "The remains were located about 30 to 40 centimetres below the ground," says Hawkins, "so they have only survived because nothing was previously constructed on the site." The oldest remains were a prehistoric ring ditch, which Hawkins says was probably a defensive ditch and bank constructed around small roundhouse dwellings. But those remains were only the start. "After the ring ditch went out of use," says Hawkins, "a very large Roman building or group of buildings was then constructed on the site. The buildings, which would have had good views of the surrounding valleys, were made of timber, wattle and daub and probably comprised a large wealthy farmstead. We have found evidence of flue tiles, which may suggest that a bath house formed part of the complex, although we haven't found any evidence for the Walthamstow Village Residents' Association Supporting 1,000 years of history bath house itself as yet." And while comparable isolated Roman farmsteads have been located at Leyton and Wanstead, this is a first for Walthamstow. But Hawkins and her team have not just found the remains of buildings; the investigation has also yielded Roman and prehistoric pottery and so far, one Roman coin. And there could be more to come as the excavations are scheduled to continue on the site until later this spring.
This article first appeared in the Spring 2017 edition of "The Village" magazine
2017
Having come on site in mid-March, our construction company, Willmott Dixon worked hard to prepare for the construction of our new building on the Walthamstow site - the Corpus Christi Building. This substantial building provides 8 classrooms on two floors and a double classroom size ground floor Learning Resource Centre.
In April Willmott Dixon were working on the foundations for the building. The building itself was constructed around a steel frame. Sections of the building were being made to a bespoke specification in a factory in Hull. They were then delivered by lorry and located within the frame of the building. Finally, the sections are clad in brick to provide an attractive and robust finish.
Throughout the construction of this building students visited the site and they many opportunities to learn about modern construction processes from a technological, scientific and careers perspective.
In June the first sections of our new building were delivered. These formed a first floor level bridge between the existing building and the new classrooms, which allows circulation along the upper level as well as at ground floor level.
We also created a link to the primary school via a gate which provides easier access to each of our schools. This means we are able to host visits by OLSG pupils and staff to make use of our specialist facilities when we are not using them. This will include science labs, technology workshops and our cookery rooms.
During this year we also completed works on our front reception and school office areas. These works created an improved reception area including a chaplaincy space and improved security and control of access to the school. We also expanded the existing dining area of the hall by covering the courtyard area so that further tables and chairs could be added.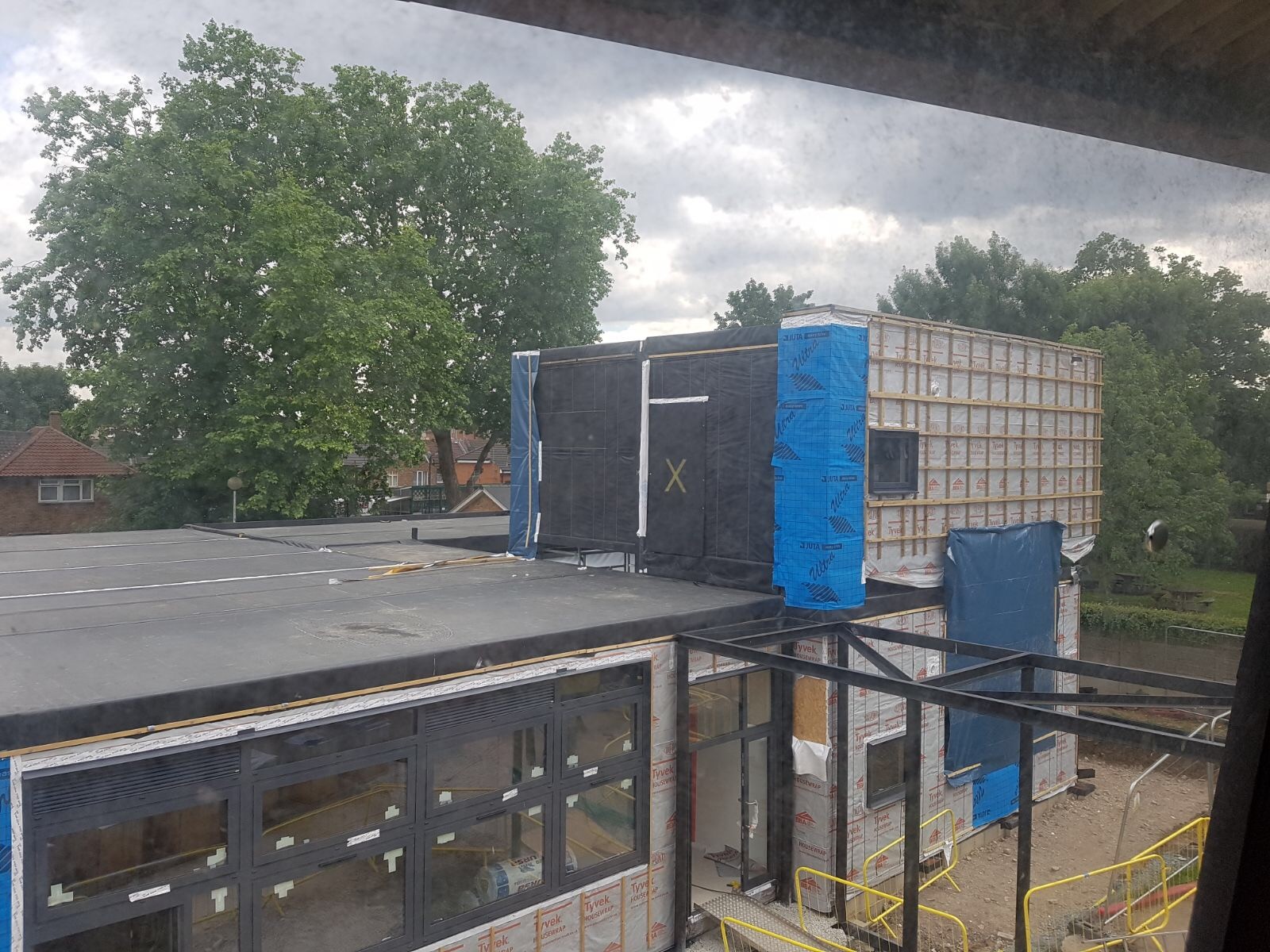 2018
The Corpus Christi Building on the Walthamstow now occupies a range of departments including RE, maths, English, and Modern Languages. Both staff and students enjoy teaching and learning in its bright airy classrooms. The Learning Resource Centre is always busy and students make good use of its facilities before school, at breaktime, lunchtime and after school. Bishop Allan officially opened the building at a well attended ceremony.
2018
It has been another busy summer period in 2018 with extensive construction works continuing on the Wiseman site. We took possession of the new Sports Hall and RE classrooms at the end of June and were able to move in before the summer holiday. Over the summer works began on the conversion of the gym to a Learning Resource Centre and Lecture Theatre and the remodelling of the changing rooms into a classroom and a chaplaincy space. Extensive landscaping works have transformed the look and feel of the Wiseman site: the playground is much more open and has had trees planted and benching installed creating a different ambience. In addition the top playground has been resurfaced and this has enabled us to create quiet and active zones for break and lunchtime. The reception and office space has also been remodelled and this has created a much brighter and more welcoming entrance to the school.
Overall, we are very pleased with what has been achieved across the two sites. The amount of work carried out has been very extensive and much greater in scope than simply creating sufficient additional spaces for the extra children coming to Holy Family. On Monday 8th October Bishop Alan formally blessed and opened the Wiseman facilities.