Remote Learning & School Closure 2021
Updates from Dr. Stone
5th January 2021 
Please read the letter below from Dr. Stone outlining details on the current school closure and home learning arrangements.
Letter to Parents 5th Jan 2021
Remote learning
In terms of remote learning during this second national lockdown you can expect that there will be a high proportion of 'live' lessons and we are following the school timetable as best we can. We have circulated a code of conduct (below) to everyone setting out the ground rules and expectations for taking part in lessons. We record everyone's attendance at each lesson and follow up if students are absent or appear to not be participating well. Please try to help us in this - one thing we can try to do as parents/carers is to encourage our children to get up, get dressed, eat breakfast and treat the school day as a working day.
You can read the results of our student and parental questionnaires below Issue 19 of Family Matters.
Pastoral support
Pastoral support continues and your son/daughter's year team will be communicating with you and following up any issues that arise. We are calling home where we have concerns or to offer support and we will be expanding our KIT (Keeping in Touch) calls as we did during the summer lockdown so that we try to personally contact everyone fortnightly if possible.
Digital devices
We have supplied quite a number of devices to families recently and are looking at what we can do to help with broadband issues and with data for mobile phones. This issue has moved up the national agenda recently too which is good to see. If you have any issues with digital access to remote learning please let us know - you can contact me or any other member of staff about this. 
Exams GCSEs and A levels update
The Secretary of State for Education announced that GCSE and A level exams are cancelled this summer and that grades will be awarded based on teacher assessment of the progress and performance of students in Yrs 11 and 13. This is likely to be a similar process to that used last summer and we are told there will be support and training for teachers. We are awaiting this and as soon as I know more I shall let you know. For the moment it is vitally important that every student continues to engage with their lessons, completes any assignments set and completes all tasks as their teachers require them to. We will be making assessment decisions based on all the evidence and data at our disposal.
Amended Risk Assessment
The Borough has asked us to make some further amendments to the school's risk assessment. This includes requiring everyone attending school at present to wear a face mask at all times except when eating or drinking. In addition, everyone is asked to bring at least two masks per day because there is evidence that the effectiveness of  face covering diminishes over time and an individual mask should not be worn all day. The amended risk assessment can be seen below.
The School's Approach to Parents' Evenings
The parental survey about remote learning raised issues about how parents will be kept informed about their children's progress. We had a number of parents' evenings scheduled for this spring term which it has not been possible to hold. We provided feedback this month to parents of Yr 11 students about their mock exam results and for students in other year groups we will be contacting parents where we have concerns about a student's progress. We intend rescheduling parents' evenings for the summer term when we hope we will, once again, be able to hold face to face meetings. We considered whether to invest in software that can schedule remote meetings for parents but we are not convinced that this works effectively - meetings have to be very short and, even then, there is a limit to how many parents can be assigned a meeting with a particular teacher. 
Where we have concerns about your son/daughter's progress we will contact you and, if you have concerns yourself, then please do make contact with us. The easiest route for this is to contact your child's Head of Year. You can find the email addresses of key teachers on our website and by clicking here.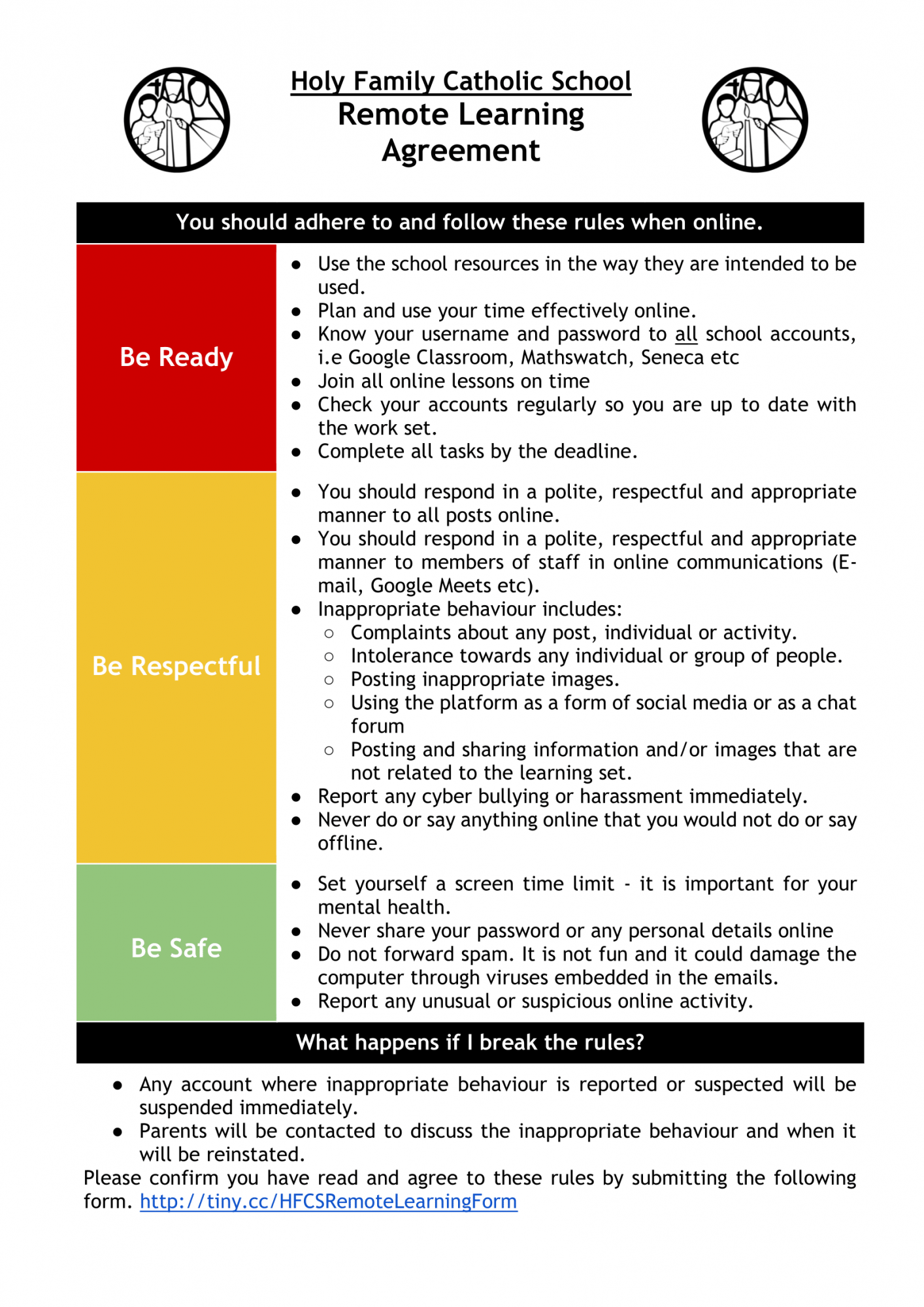 Risk Assessment
Please click the link below to view our risk assessment on preventing Covid-19 spread in a school environment.
NHS Test and Trace Information 
Please see an important letter attached from NHS Test and Trace which advises about when children need a Covid-19 test.
Unless a child has one of the three Covid-19 symptoms described in the letter (high temperature, continuous cough, loss of sense of taste or smell) then they do not need a test.
A message from all of us, to all of you!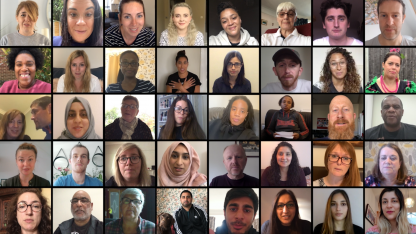 https://drive.google.com/open?id=1wP4ifswQJ1gMLgLcyndlyi8cKRIPHrgF
You will need to be signed into your Google account to view the video!
Thank you to Mr Heelan for creating this video.
How we are minimising the risk at Holy Family
In this time of school closures students should be checking Show My Homework and their Google Classroom accounts daily. Most work is being set on GoogleClassroom and can be completed using this platform from home. 
This page will be updated regularly with useful links and notices. Click here for some home educating tips.
Don't forget to check out the latest issue of Family Matters each week, here you will find even more tips and examples of students' work and the great things they are achieving at home. 
Please see the attachment below 'Home Learning Tips Guide' as a starting point for logging in to GoogleDrive and Show My Homework.  
If students have any problems with their login information for GoogleDrive please email Mrs Farrugia, l.gaynor@holyfamily.waltham.sch.uk
To view our School Closure Safeguarding Policy please click here.
Department for Education Online educational resources for schools and parents to help children to learn at home can be found here: DfE Online Resources
Click here to find 50 free revision materials for GCSE and A-Level.
Help Guide for Parents & Carers - GoogleClassroom
We have created a dedicated site to help parents and carers use GoogleClassroom. On this site you will find comprehensive guides on using all of the features of GoogleClassroom, including how to upload and submit work as well as how to ask the teacher questions. We hope this helps during this time of home learning. 
Click here to access the guides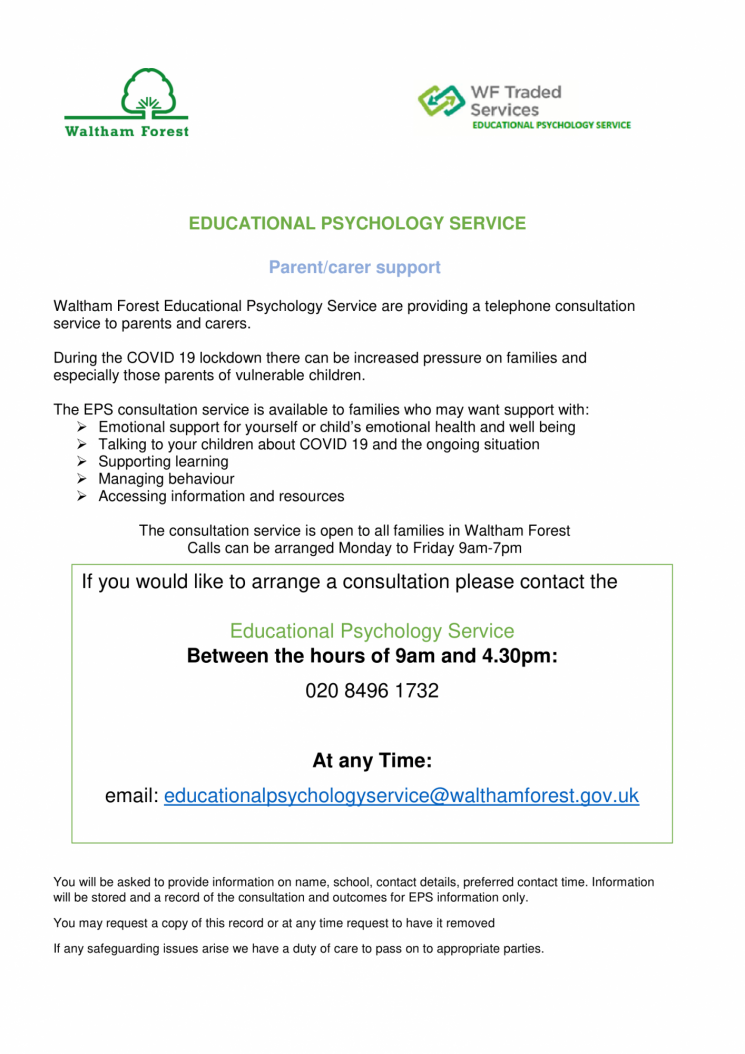 Wider Curricular Opportunities 
It is important that while you are studying from home you also do some wider curricular activities as well as your subject work. 
You could start off by trying this 60 day well-being challenge - it could be something fun to do with your family!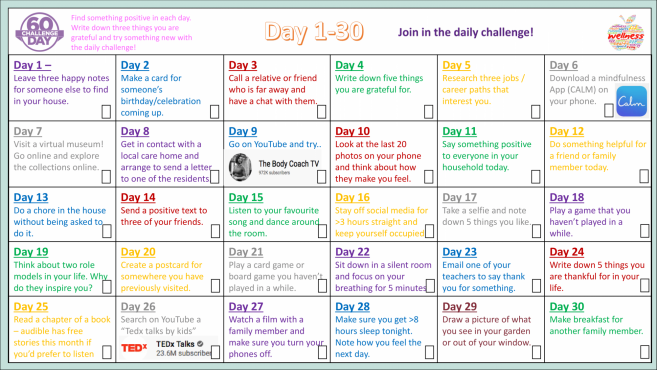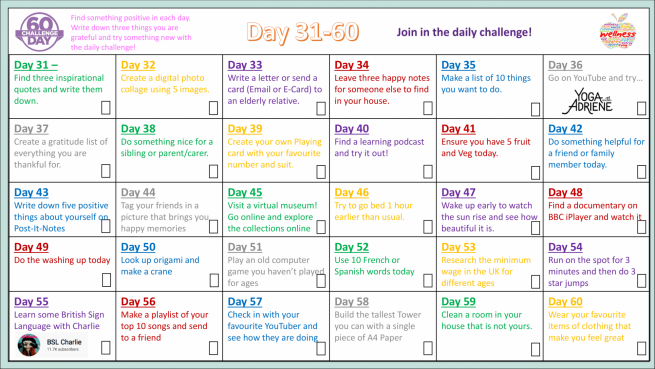 Free Resources & Activities 
At Holy Family we are very lucky to have lots of wider curricular opportunities. We don't want you to miss out on these opportunities at home. Each week we will be sharing some resources that we think will develop your wider knowledge and skills. These resources will also be fun to do with your family. Mental health and well-being are especially important during this time, so try not to get overly stressed trying to complete set work. Using the links below develop your cultural capital and wider skills sets - these is just as valuable as academic knowledge. 
Topic
Link 
Details 
The Economist 
Free Resources

The Economist has free resources for parents, teachers and children and they have some great resources on the pandemic itself for 9-14 years olds. 

Virtual Museum Tours
Tours
Tour your favourite London Museums in the comfort of your own home. With 112 collections from London's top museums you are spoilt for choice! 
Kindness Activities
British Red Cross

The British Red Cross have some great resources about kindness activities and a kindness calendar/diary. 

Careers
 National Careers Service
Support packs from the National Careers Service
Classic Boxsets to Free Language Classes plus much more!
Money Saving Expert 
Boxsets, audio books, fitness classes, well-being apps and much more
Life Skills 
Life Skills
A range of Life Skills activities to help students develop their resilience and emotional well-being
Money Skills
Young Enterprise Toolkit

This Parent Toolkit is designed to give you access to a range of Young Enterprise and Young Money resources suitable for use with children and young people as part of their home-learning 

Tate 
Inspiring Resources & Ideas

Be inspired and create with ideas and resources from the Tate

BBC Bitesize
Free Resources

BBC Bitesize are offering some fantastic online resources - click above to access them. They provide support to students and their parents with a series of special daily broadcasts for both primary and secondary students, complementing a whole host of extra resources online. From Monday to Friday, you'll be able to watch Bitesize Daily on BBC Red Button from 9am to 11am, and again on BBC iPlayer.Each 20-minute lesson will cover a different age group from ages five to 14, and will be brought to you by experts, teachers and some very familiar faces from the world of TV, sport and beyond.As well as dedicated programmes covering Maths, Science and English, there will also be lessons featuring other subjects such as History, Geography, Music and Art.

Oak National Academy

Free Lessons

With the support of the government, the Oak National Academy launched has launched some great free resources to support online learning. These can be used by teachers and parents and can access 180 lessons a week from reception through to year 10.

Home Grown Skills

Yes! Futures Resources 

Learning doesn't only happen in the classroom. We learn some of the most important life skills at home and from other experiences. 

In order to be happy, successful and fulfil their personal potential, children need confidence, resilience, communication and self-awareness. Yes Futures! resources will support your child to develop these key skills, improving their overall wellbeing. 
Don't Forget...