Open Evening & Prospectus
Open Evening 2021
The Holy Family Catholic School Open Evening for Yr 6 parents and pupils is planned for THURSDAY 23rd SEPTEMBER 2021.
There will be a Headteachers presentation at 6pm and 7pm in the Walthamstow Site school hall.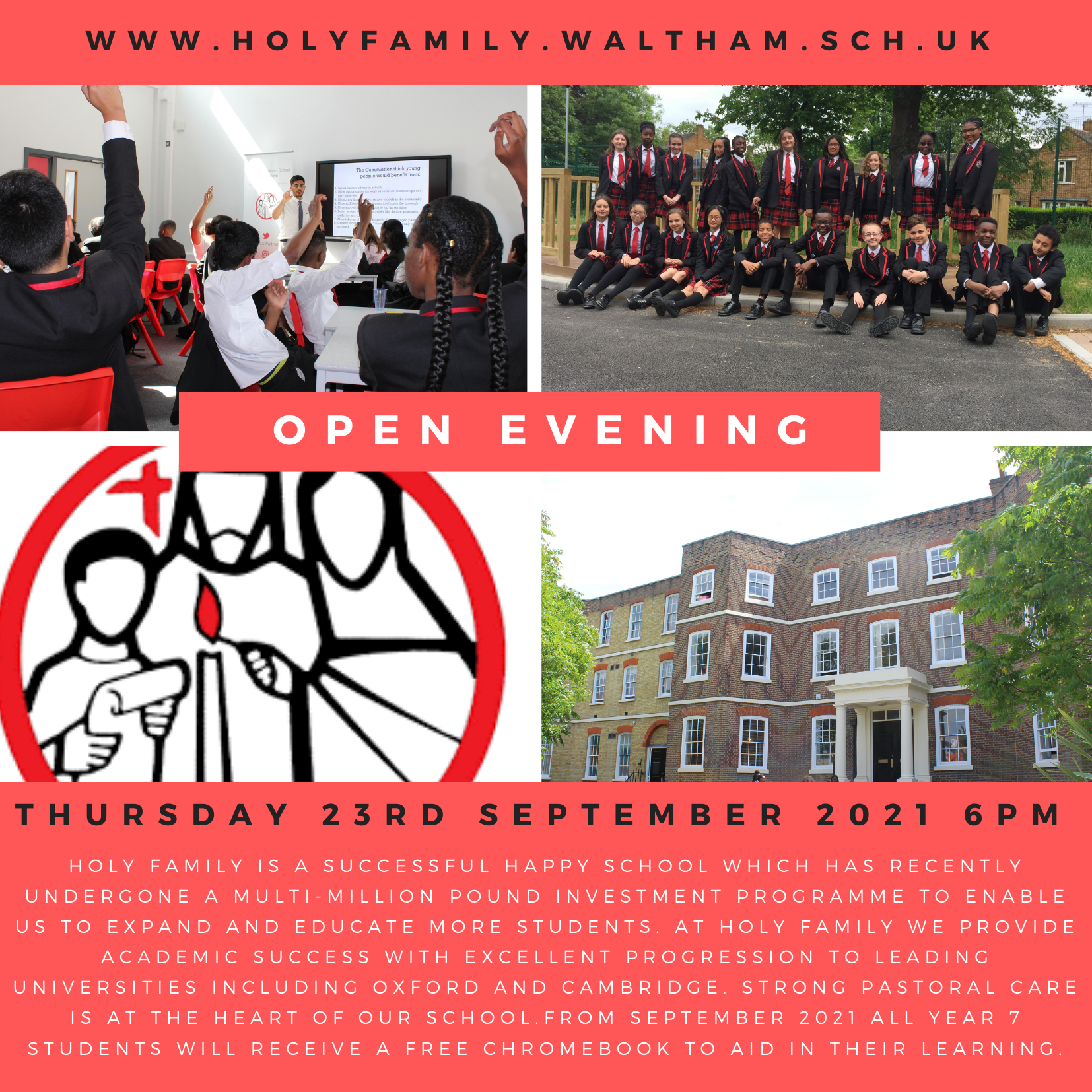 Our website is also full of information about the life of the school, our curriculum, exams results and our Catholic Ethos. We hope you will get a feel for Holy Family through this platform.
This year we are also offering school tours in small groups (max 10 plus guide) by appointment only. These tours will take place at 9.15am on the 30th September, 7th and 15th October 2021, and will give parents an opportunity to see the facilities of the school and to speak with the Headteacher.
If you would like to book a tour please telephone the school office on 0208 520 0482 Ext 202.
Please be advised that only one adult may accompany a Yr 6 pupil. 
OUR  SCHOOL TOURS ARE NOW FULLY BOOKED.
Open Evening 2020
See the video below to hear from some of our new year 7s and how they have found their first few weeks at Holy Family.
When students join Holy Family we believe that they start a seven year journey with us, right from year 7 all the way through to year 13. See the video below to hear from two students who have just completed their journey with us and are now heading to Oxford and Cambridge to start their degrees. 
Take a tour of the subjects we deliver at Key Stage 3 and hear all about the topics students will be studying when they join us in year 7. 
uSE THE TIMES BELOW TO JUMP TO SUBJECTS
Art
0:12
History
8:16
Music
22:37
Technology
35:09
PSHE
49:20
Drama
3:07
Computing & ICT
9:58
PE
24:00
SEN
42:44
 
English
5:57
Maths
14:02
RE
27:10
Chaplain
43:27
Geography
7:43
MFL
16:25
Science
32:45
Extra-Curricular
45:34