Results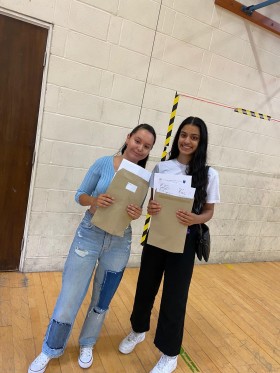 A Level & BTEC Results 2020
17th August 2020 Important Update from Dr. Stone Regarding the Grading of A Levels and GCSEs
We are pleased to congratulate our students on their A Level and BTEC results. This has been an extraordinary time for them with the cancellation of the exams which they had been working so hard towards. Most students will be pleased that their results are what they had hoped for and will enable them to take up their university places or to start their careers. However, a smaller minority may have been disappointed with the outcome from the grading process.
We are supporting all our students with advice and guidance especially where there are grounds to appeal their results. The 11th hour intervention by the Secretary of State for Education suggesting mock grades can now be used to determine students' final grade took everyone by surprise and has added to the uncertainty and stress some of our students are facing.

Despite all that has happened over the last few months our students have faced up to the challenges created by the pandemic extremely well and shown great resilience and optimism. We are very proud of all that they have achieved and we look forward to hearing about their future successes.

As ever, some students' achievements are especially noteworthy and this year we are pleased to highlight the following fantastic achievements.
A Levels
Joyce Pereira who gained amazing grades of A*A*A* in Geography, Maths and Psychology and leaves us to study Geography at Cambridge.
Megan Najman who gained outstanding grades of A*A*A in English Literature, Psychology, Maths. She is leaving us to read Law at Oxford.
Noby Roys who gained phenomenal grades of A*A*A in Maths, Further Maths and Physics. He is currently awaiting confirmation of a place either at Imperial College London or Warwick University.
Ciaran Treanor who gained brilliant grades of AABA* in Biology, French, Psychology and EPQ. He will be studying Physiotherapy at the University of Hertfordshire.
Julia Musialek who gained fantastic grades of A*AB in Biology, Chemistry and Geography. She will be joining Leeds University to study Biological Sciences.
Julia Tanska who gained brilliant grades of AAA in English Literature, French and History and will be studying Language and Culture at University College London (UCL).
BTECs
Joyce James who gained excellent grades in Health and Social Care and Performing Arts. She will be studying Social Work at the University of Hertfordshire. 
Oliwia Kilic who gained fantastic grades in Health & Social Care and Applied Science. She will be studying Animal Science at Reading University.
Orient Mylla who gained brilliant grades in Creative Media Production and Performing Arts. He will be studying Football Business and Media at UCBF.
We wish all our students the best for the future.
Dr Stone
Headteacher
See below for some handy guides:
Student Guide to Post-16 Qualifications Results
Exam Results Helpline and Information
The Careers & Enterprise Company: My Choices - Student Guide
The Careers & Enterprise Company: My Choices - Parent Guide
2019 Summer Sixth Form Press Release 
Congratulations to all students of Holy Family Sixth Form who received exam results on Thursday. Over 100 students received their A Level and Level 3 BTEC results.
Our results represent another fantastic year with 76% of grades being A*-C and a 100% pass rate at A*-E.
Head teacher Dr Andrew Stone said: "Congratulations to all our Yr 13 students who have again achieved excellent results across Btec and A level courses. It was a pleasure to see them this morning receiving their results and confirming their university places. They are about to set forth on the next stage of their lives attending universities up and down the country. Their success reflects their hard work, that of the wonderful teachers and staff that we are blessed to have here at Holy Family and the support of their parents and families. We are very proud of their achievements and of the students who are taking up apprenticeships and employment opportunities too. Holy Family continues to be a leading centre for post-16 study and we are already looking forward to the new academic year and our next cohort of sixth formers." 
Special congratulations to the following Yr 13 A Level students:
Cara Moran who gained grades A*AAB to secure her place at Oxford to read English
Daniel Asare who gained grades AAA. He will be studying Aerospace Engineering at Bath University
Zebaish Shabaz who gained A*A*C and will be studying Psychology and Sociology at the University of Sussex.
Manuela Sadik who gained A*AB and will be reading History at UCL.
We also had fantastic success with our L3 BTEC vocational programmes this year. Particular congratulations to:
Delia Muvangu who gained a double Distinction grade in Health and Social care and a B grade in A Level Psychology. She will be studying Psychology and Sociology at Northampton University.
Max Risveglia who gained Distinction grades in Creative Media and IT and will be studying Film at the University of East London
Holy Family Sixth Form is a growing, oversubscribed open access sixth form with a strong Catholic Ethos, who welcome applications from those of all faiths or none. We offer a range of over 25 different A Level and Level 3 Vocational courses, with a track record of excellent academic success fostered within a secure supportive environment.
Please visit our admissions page for more information, or email m.delf@holyfamily.waltham.sch.uk