Exam Results & Data Dashboard
Everyone can succeed - but, you must want to!
Are you a year 11 in 2020? Read this important information regarding your revision and exams for 2021.
A Level, BTEC and GCSE results at Holy Family Catholic School 2020
We are delighted with the achievements of many of our students this year and offer our congratulations to everyone in year 13 and year 11 who has received their grades over the last week or so. Most of our year 13s have been able to gain places at the universities of their choice, many at leading universities and two at Oxbridge. Mr Delf, Head of Sixth Form commented  "Despite all that has happened over the last few months our students have faced up to the challenges created by the pandemic extremely well and shown great resilience and optimism. We are very proud of all that they have achieved and we look forward to hearing about their future successes." At GCSE students have done very well and so most have made the grades they need to take the sixth form courses they are interested in. It is likely to be a record-breaking year in terms of sixth form numbers and we are delighted that so many of our students have chosen to continue their education at Holy Family.
Despite this being a most unusual year our students have shown great resilience in coping with the consequences of the pandemic on their education. Not only were their exams cancelled but the traditional end of year rituals of the Leavers' Mass and the year 11 Prom were also postponed. Sitting your GCSE exams is a rite of passage and, although in some ways not having to sit these exams may have seemed attractive, many of our students were disappointed that they did not have the chance to test themselves in these national exams and demonstrate their abilities.
Last week, after publishing one set of A level results the government changed its mind, carried out a U turn and decided to base all A level outcomes on teacher assessed grades. This week they made a similar decision regarding GCSE results. GCSE results have been based on Centre Assessed Grades (CAGs) and, some grades have been adjusted upwards but no grades have been lowered by the application of Ofqual's standardisation measures. We have all learned some new vocabulary recently - including the now infamous term 'algorithm'. It's certainly true that this year's exam season has been a year like no other but there have still been many tremendous individual performances and students who deserve praise for their commitment to their studies throughout their five years at Holy Family and, especially for the effort they showed as their GCSE exams approached. We are very proud of their achievements and are delighted that so many students are continuing into the sixth form with us. We will have a record number of year 12 students which is wonderful.
Particularly noteworthy achievements are listed below:
Sixth Form achievers
A Levels
Joyce Pereira who gained amazing grades of A*A*A* in Geography, Maths and Psychology and leaves us to study Geography at Cambridge

Megan Najman who gained outstanding grades of A*A*A in English Literature, Psychology, Maths. She is leaving us to read Law at Oxford
Noby Roys who gained phenomenal grades of A*A*A in Maths, Further Maths and Physics. He is currently awaiting confirmation of a place either at Imperial College London or Warwick University.
Ciaran Treanor who gained brilliant grades of AABA* in Biology, French, Psychology and EPQ. He will be studying Physiotherapy at the University of Hertfordshire
Julia Musialek who gained fantastic grades of A*AB in Biology, Chemistry and Geography. She will be joining Leeds University to study Biological Sciences
Julia Tanska who gained brilliant grades of AAA in English Literature, French and History and will be studying Language and Culture at University College London (UCL)
BTECs
Joyce James who gained excellent grades in Health and Social Care and Performing Arts. She will be studying Social Work at the University of Hertfordshire. 

Oliwia Kilic who gained fantastic grades in Health & Social Care and Applied Science. She will be studying Animal Science at Reading University.
Orient Mylla who gained brilliant grades in Creative Media Production and Performing Arts. He will be studying Football Business and Media at UCBF.
​Year 11 achievers
Especial congratulations to the students below who all achieved a mixture of grade 9, 8 and 7
Grade 7 is equivalent to the old A grade

Grade 8 is equivalent to the old A* grade 

Grade 9 is a new grade equivalent to A**
| | | | |
| --- | --- | --- | --- |
| Name | Grade 9s | Grade 8s | Grade 7s |
| Danyal Khan | 7 | 2 |   |
| Ryan Power | 7 | 2 |   |
| Anna Rees | 6 | 3 |   |
| Aleena Cherian | 6 | 2 | 1 |
| Tanya Cannon | 5 | 5 |   |
| Faustina Das | 4 | 4 |   |
| Mica Reji | 4 | 2 | 3 |
| Aleksandra Pietak | 3 | 1 | 4 |
| Jayden Lemonius | 2 | 5 | 1 |
| Pascal Marimootoo | 2 | 3 | 3 |
| Liam Maguire | 2 | 3 | 3 |
| Cynthia Tetteh | 2 | 4 | 1 |
| Edward Kyere | 2 | 2 | 1 |
| Abiola Kushan-Oniru | 1 | 6 | 2 |
| Gabriel Lagrata | 1 | 6 | 2 |
| Chantelle Berin | 1 | 5 | 3 |
| Magdalena Kuciel | 1 | 5 | 2 |
| Georgia Logan | 1 | 3 | 5 |
| Samantha Mumyambuya | 1 | 2 | 2 |
| Angel Koomson | 1 | 2 | 3 |
| Sitara Arthur | 1 | 1 | 3 |
Holy Family Sixth Form is a growing, oversubscribed open access sixth form with a strong Catholic Ethos, we welcome applications from those of all faiths or none. We offer a range of over 25 different A Level and Level 3 Vocational courses, with a track record of excellent academic success fostered within a secure supportive environment. For more information please email Mr Delf,  
Prospective year 6 parents are invited to join our virtual Open Evening on Thursday 24th September. More details to follow shortly. 
Dr. Stone
Headteacher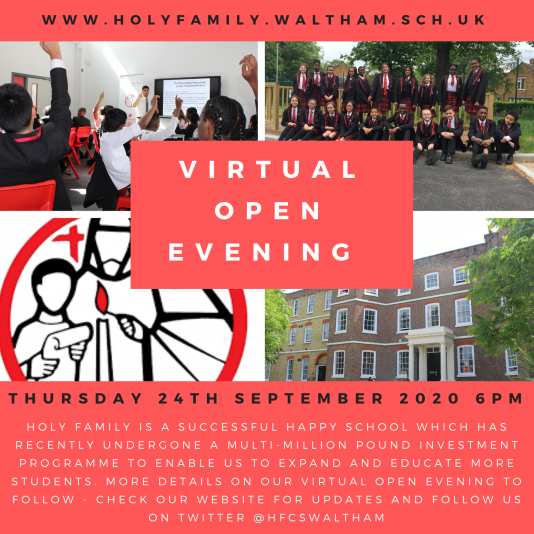 KS4 Exam Outcomes 2019
Percentage of students attaining 4+ in maths and and English = 69%
Percentage of students attaining 5+ in maths and and English = 53%
Progress 8 Score: +0.37
Ebacc entry: 18%
Ebacc standard pass: 14%
Ebacc strong pass: 9%
Attainment 8 score: 51.02
Holy Family Students achieve superb GCSE BTEC results!