Welcome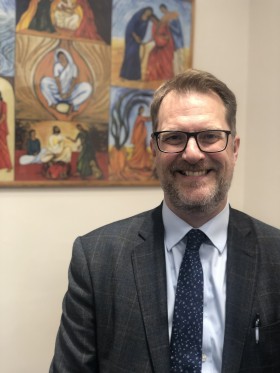 Welcome to our school...
Holy Family Catholic School and Sixth Form, formerly known as the Holy Family Technology College, is a very popular mixed secondary school with around 1220 students aged 11-19. The school's Catholic ethos underpins all that we do and forms the basis of the Holy Family Way. We are a member of the Aquinas Trust of Catholic Schools in Waltham Forest and work closely with our partner primary schools to provide the best possible Catholic education for all our young people. Holy Family is a Catholic school governed by the Diocese of Brentwood. You can find out more about the Diocese of Brentwood Education Department by following the link below:
https://www.dioceseofbrentwood.net/departments/education/
We aim to educate the whole person, to develop each student's academic potential as well as nurturing their creativity, spirituality, character and resilience. Most of our students spend seven years with us, leaving the sixth form to start their degree courses at university, or to begin apprenticeships or high quality employment. We seek to instil in each of our students the belief that they should have a strong concern for others and that they should seek to do good, both in their school, and in their wider community.
The school has very close partnerships with our parishes and with parents all of which helps to reinforce our Catholic ethos and sense of community. In school there is a very great emphasis on extra-curricular activities and all students are offered every opportunity to develop their knowledge and skills through after school clubs in an array of different fields including sport, music, art and drama, STEM Club, debating society and a very popular Duke of Edinburgh programme.
The achievements of our students and staff were highly praised in our most recent Ofsted report and the school has won numerous awards for the quality of academic outcomes we achieve. The following extract from that report summarises the main points in our Ofsted report of 2018:
"Pupils' spiritual, moral, social and cultural development, built upon a Catholic ethos, is at the heart of school life".
"Pupils spoken to by inspectors were clear that they had a person to go to if they had a problem, and it would be dealt with. One said, 'Form tutors are like parents to us in this school."
"Leaders are focused on achieving positive outcomes for students and have high aspirations for them. They have created a nurturing climate where students can excel."
We are fortunate to have a thriving sixth form housed in its own specialist accommodation. We accept applications to our sixth form from our own year 11 students and also from students from other schools across the borough and beyond, who would like to experience their sixth form education in a school based sixth form with a Catholic ethos. Further details about sixth form admissions can be found in the sixth form section of the website.
During the past three years the school has undergone a major building programme providing both new and refurbished facilities including many new classroom spaces, two new Learning Resource Centres and a new Sports Hall. These have given us a range of first-class facilities for many generations of future students.
Holy Family is a great school to work at and a great school to be a student in. We are a very caring and supportive community and the school really is like a big family. We invest in our staff (we are a Gold Standard Investors in People School) and we always try to do our very best for every one of our young people.
We hope you find our website both informative and interesting. If you have any questions about our school then please don't hesitate to contact us.
Dr Andy Stone
Headteacher